Chairman's Letter, 8 March 2020
Dear Friends of SGAA,
It is with sadness that I have to announce the Charity is closing down at the end of the financial year in March 2020, after 33 years. This is partly due to lack of long-term funding but also because we feel the Charity has achieved many of its original objectives. We are tremendously grateful for the support we have received from you, our donors and friends over the years, both financial and moral. Without your generosity, SGAA would not have been able to achieve a fraction of what it has achieved, in providing assistance to thousands of Afghans with disabilities.
Over the years we have achieved many things since we started in the basement of the Lady Reading Hospital in Peshawar, Pakistan in 1986, including:
• Training more than 200 Afghan physiotherapists and prosthetic and orthotic technicians to staff rehabilitation centres in Jalalabad, Kabul, Panjshir and Wardak;
• Provision of more than 10,000 prostheses, orthoses and wheelchairs made by Afghan technicians; and over 50,000 patients treated with physiotherapy;
• Introducing the Ponseti method to Afghanistan to treat children with clubfoot; and improved treatment of developmental dysplasia of the hip through introduction of Pavlik harnesses in physiotherapy clinics and surgery by specially trained Afghan surgeons; both of which have which has enabled children all over Afghanistan to walk normally and avoid otherwise lifelong disability.
• Training of community- based workers, midwives and other health staff in detecting and referring people with disabilities for rehabilitation as part of our integration with Swedish Committee for Afghanistan's national disability programme
• Continued follow up and expert mentoring and training by SGAA consultants over the last 20 years and since joining programmes with Swedish Committee for Afghanistan in 2006.
These figures are evidence of activities but the impact on lives of individual Afghans and their families is even more important. Mahpekai, a double amputee, was treated as a young girl at SGAA's clinic in Kabul. She had lost both her legs from a mine blast when gathering wood. Mahpekai started working in the clinic as a female guard checking the handbags of patients coming to the clinic and was tutored by the Director of the Centre, Mrs Gul Maky, and successfully passed her 12th grade exams. She then studied to become a prosthetist/orthotist with ICRC and is now one of a small group of Afghan technicians who have completed an international diploma to become ISPO Category 1 technicians. Mahpekai is also the main bread-winner in her family which gives her a feeling of self-worth and independence and works at the Kabul Orthopaedic Organization with support from SGAA.
This last year SGAA has continued to support the professional development of staff through sending Dr. Nawid to Vellore, in India to learn paediatric orthopaedic surgery for 6 months. In addition, Ahmad Shah (physiotherapist) and Najibullah (orthotist/prosthetist) attended a Ponseti course in the UK in 2018 and have since used the skills they were taught to train other Afghan physiotherapists and orthopaedic technicians from disability centres across the country from all colleague organisations. SGAA will continue to use remaining funds to support a few last development projects.
Despite the closure of SGAA in 2020, we believe that the work of supporting Afghans with disabilities will continue through the Afghan staff trained by SGAA and this is a considerable long-term contribution to the development of the people and the country who have suffered so much in the last 40 years of war.
I would like take this opportunity to thank our Committee and all our volunteer consultants who have provided their time and expertise over the years to ensure a better life for many Afghans. My wife Eleanor, who died in September 2018, was also instrumental in the creation and dynamism of the charity, and much of the day to day work was managed by her with the able support of Christine Edden, our voluntary secretary and the rest of family.
With my Best Wishes,

Sandy Gall, Chairman

Committee Members:
John Gladwin,
Jeanne Hartley,
Philip Henman,
John Lamb,
Mark Scrase-Dickins,
Diane Steer,
Nich Woolf
Nancy Hatch Dupree, 1927-2017 Obituary
One of the most remarkable and fascinating Westerners ever to have been attracted to that infinitely exciting, dangerous and beautiful country – Afghanistan – has just died in its capital, Kabul, aged 89. On September 10, she succumbed to what was really a combination of old age and the infirmities it brings, and the fact that she never stopped working on the project which will preserve her memory for as long as Kabul exists – an Afghanistan Archive installed in a splendid modern glass and polished stone building, equipped with modern technology, she commissioned in the grounds of Kabul University.
She herself tirelessly collected books, papers, articles and pictures – anything Afghan of distinction and historical value which would enhance her creation and had just put the finishing touches to it when she died.
I always saw her when I visited Kabul – once a year in September, usually , and took her to lunch in a small restaurant she liked. She ate like a bird and always reminded me we were 'twins '– being the same age. She was full of reminiscences, fascinating snippets of contemporary history like her description of the parties the British Embassy gave,when she was young and full of life.
The British gave great parties, she said. The wine would flow, and although Afghans, being Muslims, don't drink in principle, the 'gardeners would sweep up the drunks next morning as they tidied up after the party.'
Her life had been a busy one, marrying an American diplomat called Hatch when in her twenties, and moving to Kabul when he was posted to Afghanistan. But it was not long before she fell in love with another American, Louis Dupree, who worked for the CIA but was really a scholar, and the author of the book on Afghanistan, simply called 'Afghanistan' and published by Princeton University. She herself, no mean writer, travelled with him all over the country and wrote a brilliant guide book ,An Historical Guide to Afghanistan, last published in 1977, but obtainable in all the Kabul book shops. I find it indispensable, full of insights, good pictures and beautifully written. It is in fact my 'bible.'
'When we used to take 'walkers' on trips to the Panjsher and Bamiyan to raise money for SGAA, I persuaded Nancy to take them first on a short tour of Kabul. One must was of course the National Museum. Stopping in front of the statue of Kanishka, the great Kushan king, standing majestically on the steps as you go in, Nancy announced in a loud voice. ''This is where the Taliban Minister of Culture [pause] took a hammer the other day [pause] and smashed it to smithereens! [pause.] Luckily the restorers at the Louvre were able to repair it - so that it looks as good as new!'
But Nancy's greatest achievement was her creation of an Afghanistan Archive, housed splendidly in an elegant garden, where students can work and research in peace and quiet with the most modern equipment. Nancy's archive is her final tribute to the city and country she took to her heart and gave her life to.
As she always told me , we were 'twins,' both 89, both travellers, both writers, and both in love with Afghanistan in our different ways I shall miss her, as will her host of friends in Kabul and the rest of Afghanistan.
According to the 2005 National Disability Survey of Afghanistan, one in every five households in Afghanistan has at least one family member who is disabled. This is a result of 30 years of war, landmines, disease and poverty.
Since 1986 Sandy Gall's Afghanistan Appeal (SGAA) has trained Afghan professionals to provide artificial limbs and other mobility aids for more than 25,000 people with disabilities and provided physiotherapy treatment for over 60,000 patients with temporary and permanent disabilities.
Activities were initially based in Peshawar, Pakistan where there were over 1 million Afghans living in refugee camps in the 1980s and 1990s. SGAA gradually moved its activities inside Afghanistan from 1991 onwards and set up two main centres in Jalalabad in 1993 and Kabul in 1996.
Since 2006 SGAA has signed a partnership agreement with Swedish Committee for Afghanistan and its activities are now merged in a community based disability programme which works in 13 provinces.
This programme both treats people with different types of disability and offers them a range of services including home-based training, physical rehabilitation, education, skills training and business loans.
Physiotherapy Consultant's Report. April 2013
The Chairman and Mrs Gall visit Kabul and Jalalabad March 2013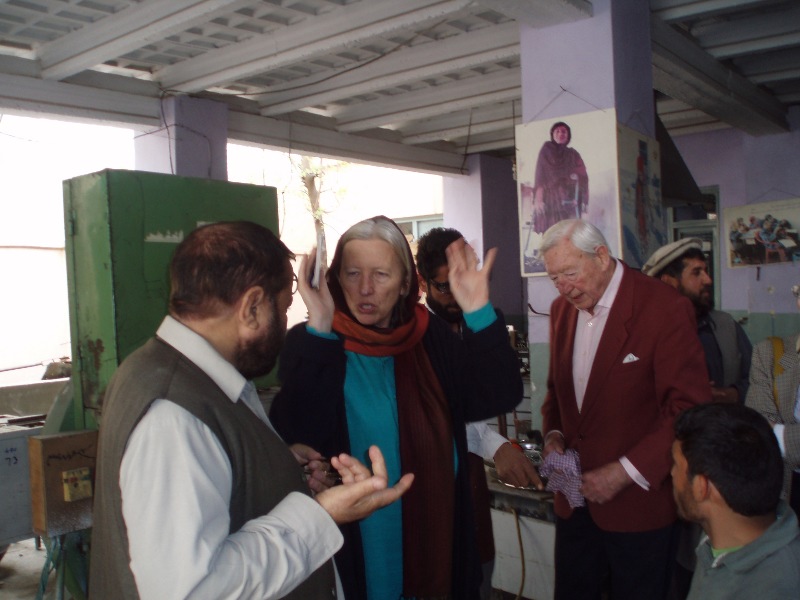 Photos:
Top left: Mahpekai, senior prosthetist-orthotist, and double amputee, showing a drop hand splint she has fabricated.

Top middle, top right: SGAA staff from the Component and Orthopaedic Workshops
Bottom: Malek, who is a double amputee, winning his race in Kabul.
Hashmatullah's story
The boy in the picture is Hashmatullah. He and his father were walking through Darulaman (a suburb of kabul), Hashmatullah in front, when the father shouted: 'Look out, there's a mine !'
The words were no sooner out of his mouth then there was a terrific explosion right beside Hasmatullah, wounding him in both legs and seriously injuring h
is father who died two days later. By some miracle, Hasmatullah survived but he lost almost the whole of his leg. It was amputated just below the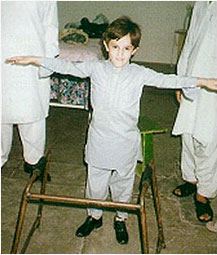 hip and half of his leg, amputated above the knee in what is known as an AK.
Click here for more patient stories
Afghan Faces is a high quality publication reflecting upon the daily lives of Afghan people through their faces.
Click here for more information.